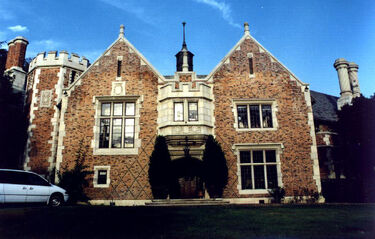 Nick-named Hell House, Kane Manor is a reputedly haunted house located somewhere in Southern California. It is a two-story red Tudor structure filled with museum-level antiques and several bedrooms, a dining room, music room and kitchen atop an extensive cellar labyrinth. It's watched over by Hanson, a caretaker who also serves as the location cook and housekeeper.
According to Professor Oldman, the main portion of Kane Manor was built in 1898 by Archibald Keaton as a gift to his wife, Cora, but they sold it in 1920 to a vague character named Uriah Bloodworth, but he lost the place during the stock market crash and retired to Florida. Bloodworth is reputed to still be alive. The house was next acquired by Hugh Kane for his wife, Caroline. Kane and his mistress were eventually murdered by Hanson, who was in love with Caroline. Covering up the murders for several years, Hanson remained somewhere behind the scenes when Mrs. Voorhees owned the house, moving out after the possession and death of her daughter.
Two years later, Hanson played the unwilling host for Oldman's sleep studies class. When Cindy's resemblance to Caroline stirred up the ghosts, Hanson revealed his murderous past and attacked the female students. He was eventually ripped apart by Hugh Kane's ghost.
Trivia
[
]
The location was 380 South San Rafael Avenue in Pasadena, California. It has appeared in several movies, such as "Delirious," "Bowfinger," "Stand by Me," "Rush Hour," "Dead Again" and most notably as Wayne Manor in the 1960s TV Series, "Batman."

A nearby house at 160 South San Rafael Drive was used as "Hill House" in the film "Clue", which also featured Tim Curry.

Oldman reveals the house's lengthy convoluted history in a deleted scene where Brenda Meeks uses (supposedly) psychic skills to feel the ghosts as poltergeist activity threatens her life.
Hell House has a longer more detailed history and bio at the Collinsport Ghost Society, placing it in a conjoined movie and television universe. 
Cindy stays in Caroline's old room. Brenda, Theo, Buddy and Alex are the only ones whose bedrooms aren't revealed, although Brenda might have stayed with Ray.
Shorty stays in Megan Voorhees's old room.
The upstairs corridor of the mansion does not fit the downstair foyer layout. The exterior shows one window in the parlor where the interior has a four-panel window.
The interior layout of the house does not make sense. When Hanson and Cindy emerge upstairs, a hallway off the corridor shows the railing of the foyer behind them (where Dwight nearly falls over in his wheelchair later) which means the corridor would have to extend beyond the front of the house. This side hallway is also not nearly long enough to extend this wing beyond the tower seen outside. Plus, if this entire wing exists, it means the windows in the dining room should not exist.