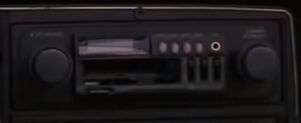 The Radio Voice ia a peripheral character that acts as a voice coming from the car radio in Cindy Campbell's car. It was voiced by entertainer and actress Vitamin C.
Vitamin C is the vocalist playing from the radio in Cindy's car. She is singing the single "Graduation (Friends Forever) - Vitamin C." As she drives along, Cindy sings along with it, but she does so out of pitch and out of tune that as Cindy approaches Hell House the voice gets upset and asks Cindy to shut up and let her sing. Surprised and deflated, Cindy starts driving in quiet as Vitamin C continues singing on the radio.
It should be noted that the radio comes to life when Cindy gets close to the house as if it had something to do with it.
In a deleted scene, it's revealed that Cindy's car is of such shoddy construction that it dissolves in the rain. It is likely this includes the radio as well.
Community content is available under
CC-BY-SA
unless otherwise noted.