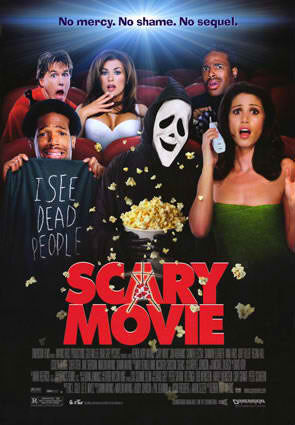 Scary Movie is a series of American comedy films created by Keenan Ivory Wayans with his younger brothers, Shawn Wayans and Marlon Wayans, that mainly specialize in parodying horror films.
The two main recurring actors of the series are Anna Faris and Regina Hall as Cindy Campbell and Brenda Meeks (2000-2006). They are also joined by new or recurring actors and characters in each movie. Scary Movie 5 was released in 2013.
No mercy. No shame. No sequel. (2000)
The movie that dares you to come (2001)
Great Trilogies come in threes. (2003)
The fourth and final chapter of the trilogy. (2006)
You've Never Seen Activity Like This. (or) The Supernatural is coming. Bring protection. (2013)
(TBA)
Community content is available under
CC-BY-SA
unless otherwise noted.